Search Amazing Deals On Vacation Rentals & Hotels in Kissimmee!
Disney's Animal Kingdom Villas - Kidani Village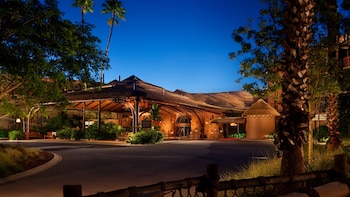 Disney's Animal Kingdom Villas - Kidani Village is a luxurious resort located in Walt Disney World, Florida, at 3701 Osceola Parkway. This stunning property offers guests a memorable experience amidst the scenic savannas and lush forests of Africa. The resort is divided into two sections - Jambo House and Kidani Village, with the latter being a newer and more exclusive addition. The resort has a total of 493 rooms, each designed with traditional African accents and equipped with all modern amenities to ensure a comfortable stay. Guests at Disney's Animal Kingdom Villas - Kidani Village can enjoy a range of amenities on-site, including three swimming pools, a fitness center, a spa, and several on-site restaurants offering delicious and diverse cuisine. The resort also has a beautiful outdoor fire pit area, perfect for enjoying starry nights with loved ones. For the convenience of its guests, the property offers shuttle services to and from various Disney theme parks and attractions.
The resort's location is ideal for guests who wish to make the most out of their Disney World experience. It is located just a short distance from the popular Animal Kingdom theme park, which offers thrilling rides and close-up encounters with exotic animals. Other nearby attractions include the Hollywood Studios theme park, Epcot, and the Blizzard Beach Water Park, all within a 15-minute drive from the resort. Additionally, guests can enjoy the best of shopping and dining at Disney Springs, located just 20 minutes away.
Some of the notable points of interest located within an hour's drive from Disney's Animal Kingdom Villas - Kidani Village include the Magic Kingdom Park, Universal Studios, and SeaWorld Orlando. Other recommended activities nearby include golfing at the Disney's Lake Buena Vista Golf Course and exploring the scenic trails and natural beauty of the Bonnet Creek Nature Preserve. Whether guests are looking for a relaxing vacation or an action-packed adventure, this resort offers the perfect location and amenities to cater to all their needs.
---
Search Amazing Deals On Disney's Animal Kingdom Villas - Kidani Village & Other Hotels In Kissimmee, FL
Save 20%+ on
Hotels & Vacation Rentals
Members Save 20% or More
Off Our Already Low Public Prices!
Save Hundreds on
Condo & Timeshare Rentals
5% of our commission on every TravNow booking is donated to charity.
Learn More
Become a Member Today - Free!
Sign Up Now For Free
Save Big On Hotels, Condos, and Vacation Rentals

Our publicly-available rates are among the lowest on the internet, but sign up for a free TravNow membership and get immediate access to our hidden "members-only" rates that can save you 20% or more on top of our low everyday rates.

Access To Non-Public "Travel Agent" Pricing & Inventory

We are able to offer our private members access to wholesale pricing that the hotels and huge travel websites don't want the public to see!

Unique Vacation Inventory

Our members have access to interesting and unique vacation inventory like heavily discounted vacation condos and timeshare rentals that can't be found on other "hotel-only" travel sites - our members can save hundreds or even thousands of dollars booking these special deals.

Member Rewards Program

Members are automatically enrolled in the internet's top reward program - stay 12 nights, and earn one night FREE! It's easy to earn valuable rewards while saving with TravNow!
Discover The Lowest Prices Available On The World's Top Hotel Brands